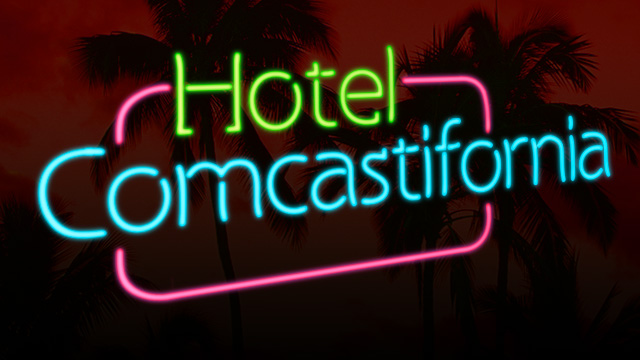 Even under the best of circumstances, trying to get a refund from a cable company can be a trying ordeal. But when a small condo association in Florida was inadvertently billed $2,000 by Comcast, an obvious mistake that should have been solved with a quick refund became a months-long bureaucratic nightmare.
The Riggs Landing Condo Association, a nine-unit development in Sarasota, Florida, had been paying for TV service since 1990 under a series of bulk contracts with Comcast and predecessor companies. The latest 10-year deal with Comcast was due to expire at the end of 2016, but at the beginning of this year, Comcast agreed to let Riggs Landing opt out of the deal early.
"In reference to your inquiry about termination of the bulk cable service at Riggs Landing, we can de-bulk the residents effective April 1, 2016," a Comcast employee told the association in an e-mail on January 22. The condo association then sent Comcast a letter via certified mail to complete the early termination and received a receipt confirming that it was delivered to Comcast on March 1.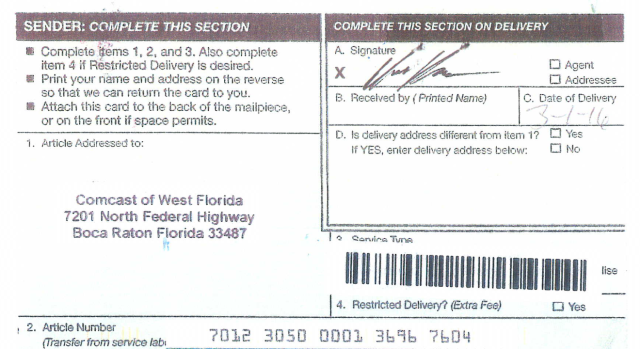 The association refunded money to its residents, since part of their quarterly dues had been funding the Comcast bulk contract, Riggs Landing resident and board member Nancy Wiener told Ars. By April 1, residents signed up for new individual service plans with Comcast because the bulk contract was supposed to expire, she said.
But Comcast kept billing Riggs Landing about $680 a month in April, May, and June, for the bulk services that should have been canceled. The association didn't notice the mistake immediately, allowing Comcast to take the three months of extra bank withdrawals after the contract should have expired. Since residents had signed up for new services, they were seemingly being double-billed.
Upon noticing the mistake in June, Riggs Landing board members quickly asked Comcast for a refund. As Comcast had agreed to terminate the contract on April 1, it seemed like getting the money back should be a simple matter. But instead of honoring the April 1 end date, Comcast told the association that Riggs Landing had sent the cancellation letter to the wrong address, and that Comcast thus could not "de-bulk the account" until September 1. Instead of providing a $2,000 refund, Comcast wanted to keep billing the association for bulk services through August.
Riggs Landing in fact did send the letter to a different address than the one that Comcast had asked the association to send it to. But it wasn't like Riggs Landing mailed it to a completely random location—instead of going to a Sarasota address that Comcast specified, the letter went to a Comcast office in Boca Raton that handles paperwork related to bulk contracts in the region. On June 9, a Comcast representative from that office confirmed to Wiener that the letter had been placed in the Riggs Landing file, but no action had been taken on it, she said.
"Our property manager sent it to [Comcast's] regional Florida bulk contract office," Wiener said. "It's not an inappropriate address to send the letter to. Somebody received it, we have the receipt. Someone took that letter and stuck it in the file and did nothing with it."
Riggs Landing argued that Comcast's bulk contracts office should have scanned the letter and e-mailed it to the appropriate person. But at that time, Comcast wouldn't budge on its position that no refund was due.
Comcast eventually admits mistake
Riggs Landing canceled the automatic bank payments, refused to pay for further months, and accused Comcast of illegally charging them twice for the same service, which Comcast denied. Riggs Landing and Comcast were at a stalemate for a few months, until Wiener contacted Ars in early September.
"It just amazes me that for $2,000 plus, which has to be petty cash for them, that they would put up such resistance and alienate customers," Wiener told Ars. Comcast is the United States' largest cable company and broadband provider.
Finally, after Ars contacted Comcast, the company agreed in mid-September to honor the April 1 cancellation date and provide a refund. Riggs Landing received the refund check of $2,034.31 on October 21.
When the dispute was still going on, Wiener spent hours on the phone with Comcast representatives and exchanged many e-mails with them in an attempt to get the refund. "It became this frustrating experience of various people at Comcast e-mailing us insisting that we were receiving the benefits of the bulk contract and that they could not de-bulk us," she said.
Riggs Landing's many efforts to get its money back included filing complaints with the Federal Communications Commission in July and the Florida state government in August and writing a letter to Comcast CEO Brian Roberts in August, all to no effect. The association then tried to obtain mediation through the Citizen Dispute Settlement Program in Florida in early September. Comcast never responded to the mediation request, and it continued to insist that the charges were valid, Wiener said.
When Ars spoke with Comcast, a spokesperson said there was a misunderstanding by a sales representative and a mishandling of the condo association's transfer from a bulk contract to individual accounts. There was a "process breakdown," with the refund issue being sent into the wrong administrative review process, and it got tied up for months.
The spokesperson said he talked to employees to make sure that condo association sales reps are properly trained on how to discontinue bulk contracts. What Riggs Landing went through, the spokesperson said, could be used as an example of what not to do in future Comcast training. But for now, the ordeal is another example of Comcast's notoriously poor customer service.
Getting out of a bad deal
Riggs Landing had good financial reasons for wanting to get out of the bulk agreement. The contract may have been a good deal at one point, but the association's board concluded that those days were long gone. The latest agreement, signed in 2006, allowed for yearly price increases of 7 percent despite only providing basic cable.
"With all the changes that people are going through with streaming and new devices, we decided this was not benefiting us," Wiener said.
The bulk contract provided only an entry-level set of cable TV channels. Residents who wanted additional channels or Internet and phone services, had to sign up for the extra services separately. Residents were thus paying twice all along: Once in their condo fees to fund the bulk contract, and again for their individual packages providing extra services not included in the bulk deal.
"All the owners had different rates anyway, and there was nothing uniform about it anymore," Wiener said. "We also had owners who are there just maybe two weeks a year."
Even after 10 years of 7 percent price increases, Comcast told Ars that Riggs Landing was still getting about a 20 percent discount off the normal rate.
Wiener questions that, however. When the bulk contract was in effect, she paid Comcast about $80 a month for Internet and TV service in addition to her share of the bulk contract bill. When combining her individual bill with her share of the bulk contract, she was paying around $150 a month.
Now that Wiener has negotiated a new individual deal with Comcast, she is paying $80.96 a month to receive the exact same services, she said. That's a promotional rate and will increase after 12 months, but to Wiener, this demonstrates that the bulk contract wasn't providing any benefit. "I cannot purge the thought that for years we did not benefit from our bulk contract," she said. After the yearlong promotional rate expires, Wiener's retail price will go up to $151.87, about what she was paying under the bulk deal.  "By then I will most likely cut the cord," she said.
Wiener's renegotiation process was not smooth. Comcast initially promised a monthly rate of about $70 but several weeks later told her she'd have to pay another $10 a month. Susan Cohen, another Riggs Landing resident and board member, told Ars that she is now paying Comcast about $70 a month for TV and Internet service. That's $25 a month less than her total costs when the bulk contract was in effect.
The fact that Riggs Landing thought it had ended its bulk contract on April 1 added to the individual owners' billing problems. Owners negotiated new deals with Comcast, assuming they were now on purely retail accounts, but then months later were forced into new price packages after Comcast actually converted the property from bulk to retail.
One resident who had started a new contract in April was disconnected by Comcast in mid-November, according to messages Wiener shared with Ars. This resident had to spend an hour on the phone negotiating a new contract with Comcast to get TV service reinstated.
There was one more oddity that happened shortly after Riggs Landing received its long-awaited refund. Comcast's executive customer relations team responded to Riggs Landing's FCC complaint on November 4, apparently unaware that the refund had recently been issued. Comcast's November 4 letter to the FCC and the condo association said "a refund is not justified"—even though the refund had already been issued two weeks before that.
"[T]he proper documentations to cancel the bulk services were not provided prior to April 1, 2016," the Comcast letter said. "Furthermore we provided bulk services to the residents up until September 1, 2016 and did not charge them individually for the services being provided in the bulk agreement. The bulk agreement was canceled on September 1, 2016 at which point we started billing residents who decided to acquire cable services separately, therefore a refund is not justified."
Comcast's long struggle to fix customer service
Many Comcast customers have fallen victim to poor customer service. Comcast Executive VP David Cohen acknowledged in a Senate committee hearing in April 2014 that the company was "deeply disappointed" in its own customer service, and Comcast announced plans to fix the problems. While there have doubtlessly been improvements in some areas, Comcast remains one of the lowest rated companies in customer satisfaction surveys.
In June of this year, while Riggs Landing was trying to get its refund, another Comcast VP testified at a Senate hearing about Comcast's plans for improvements such as "crediting customers proactively for outages and billing errors."
While the Riggs Landing refund was eventually issued, condo board members remain shocked that Comcast refused to provide the money for months and only fixed the problem after Ars contacted the cable company. "No matter what Nancy and I tried, we couldn't get anyone at Comcast to listen to reason," Cohen said. "I could not understand why a company of their magnitude made such a big deal over a couple thousand dollars."